Media Online Dalam Melaksanakan Bimbingan Pra Nikah Era New Normal
Online Media in Implementing Pre-Marriage Guidance in the New Normal Era
Keywords:
Online Media, Guidance, Premarital, KUA
Abstract
The Covid-19 pandemic has changed all forms of human activities into new habits. The use of information technology is the basis in every activity carried out. The Office of Religious Affairs (KUA) in implementing Pre-Marriage guidance must also have an innovation in conducting guidance while maintaining health protocols. The purpose of this study was to determine the urgency of online media in carrying out premarital guidance and how the premarital guidance system is implemented using online media at the Office of Religious Affairs (KUA). This study uses a qualitative approach with library research methods. Data analysis was carried out by means of documentation to several reference situations and conditions of the importance of implementing premarital guidance through various related literature. The results of the study show that pre-marital guidance services at the Religious Affairs Office (KUA) are very important given the ongoing pandemic conditions. The use of online media as a service medium is also in line with the direction of human development towards the industrial era 4.0. Online premarital guidance can be done by utilizing several internet-based media such as the use of specially made premarital guidance applications so that the implementation of guidance can be carried out optimally.
References
Agustina, Y. (2018). Fungsi Badan Penasehat Pembinaan Dan Pelestarian Perkawinan (bp4) Dalam Mengatasi Perceraian Di Kantor Urusan Agama (kua) Kecamatan Sumberjaya Kabupaten Lampung Barat [Undergraduate, UIN Raden Intan Lampung]. http://repository.radenintan.ac.id/3973/
Arti kata media—Kamus Besar Bahasa Indonesia (KBBI) Online. (n.d.). Retrieved October 18, 2021, from https://kbbi.web.id/media
Direktorat Bina KUA dan Keluarga Sakinah. (2011). Bina KUA dan Keluarga Sakinah. Jakarta. Direktorat Jenderal Bimbingan Masyarakat Islam.
Djunaedy, M. F. (2020, September 27). Masa Pandemi Covid-19, Bimbingan Pra Nikah Beralih ke Daring. Kabar Malang Com. https://kabarmalang.com/11367/masa-pandemi-covid-19-bimbingan-pra-nikah-beralih-ke-daring
Elgamar. (2020). Buku Ajar Konsep Dasar Pemrograman Website Dengan Php. Ahlimedia Book.
Eliza Mei Dianti. (2021). Peran Kua Dalam Kursus Calon Pengantin Pada Masa Pandemi Covid-19 (Studi Kasus Pada KUA Kecamatan Talun Kabupaten Cirebon) [Diploma, IAIN Syekh Nurjati Cirebon]. http://syekhnurjati.ac.id
Hasil Pencarian—KBBI Daring. (n.d.). Retrieved October 18, 2021, from https://kbbi.kemdikbud.go.id/entri/aplikasi
KOMINFO, P. (n.d.). Apa itu Industri 4.0 dan bagaimana Indonesia menyongsongnya. Website Resmi Kementerian Komunikasi Dan Informatika RI. Retrieved October 25, 2021, from http:///content/detail/16505/apa-itu-industri-40-dan-bagaimana-indonesia-menyongsongnya/0/sorotan_media
Liliweri, A. (2017). Komunikasi Antar Personal. Prenada Media.
Muiz, M. R. (2021). Kendala Pelaksanaan Penasehatan Pranikah Pada Masa New Normal Di Kantor Urusan Agama (kua) Kecamatan Lima Kaum. http://repo.iainbatusangkar.ac.id/xmlui/handle/123456789/21097
Nurul 'Aliyyah. (2021). Praktik Bimbingan Perkawinan Melalui Media Sosial Dalam Membentuk Keluarga Sakinah Di Indonesia. https://repository.uinjkt.ac.id/dspace/handle/123456789/56697
Padanan istilah online dan offline? | Badan Pengembangan dan Pembinaan Bahasa, Kementerian Pendidikan dan Kebudayaan. (n.d.). Retrieved August 31, 2020, from http://badanbahasa.kemdikbud.go.id/lamanbahasa/content/padanan-istilah-online-dan-offline
S, J. H. W. (n.d.). Kemenag Sleman Buka Bimbingan Pernikahan Online Selama Pandemi Corona. detiknews. Retrieved October 20, 2021, from https://news.detik.com/berita-jawa-tengah/d-5016020/kemenag-sleman-buka-bimbingan-pernikahan-online-selama-pandemi-corona
Saputra, T. A. (2020). New Media and Challenges of Islamic Counselors in Implementing Counseling in the New Normal Era. Jurnal Konseling Religi, 11(2). https://doi.org/10.21043/kr.v11i2.8645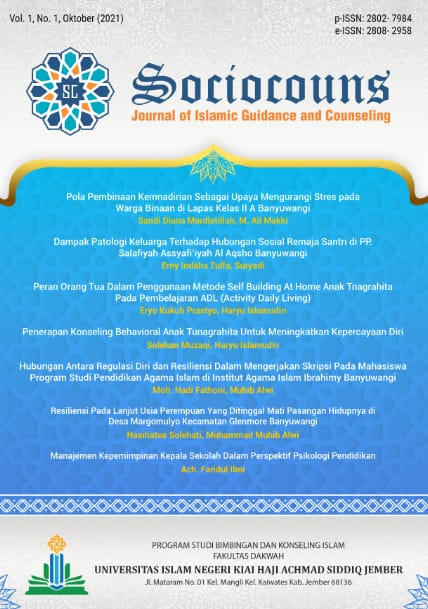 Downloads
How to Cite
Hasbi, M. D. ., & Saputra, T. A. (2023). Media Online Dalam Melaksanakan Bimbingan Pra Nikah Era New Normal: Online Media in Implementing Pre-Marriage Guidance in the New Normal Era. Sociocouns: Journal of Islamic Guidance and Counseling, 3(1), 39–50. https://doi.org/10.35719/sjigc.v3i1.72