Hubungan Antara Tingkat Kesepian Dengan Parasocial Relationship Pada Remaja Penggemar K-POP di Komunitas Exo-L Lampung
The Relationship Between The Level Of Loneliness And The Parasocial Relationship Of Adolescent K-POP Fans In The Exo-L Lampung Community
Keywords:
Loneliness, Parasocial Relationship, Adolescent
Abstract
The Mental Health Foundation states that loneliness in young people or adolescents is higher than in adults or the elderly. Someone who experiences loneliness will look for other ways to conduct a relationship using a different way. Therefore, parasocial relationships can be used to get rid of the loneliness they feel. By having a parasocial relationship with their idol, they can feel the reciprocity they don't get in the real world. This study aims to determine whether or not there is a relationship between the level of loneliness and parasocial relationship among adolescent K-Pop fans in the EXO-L Community in Lampung. This research is a quantitative-correlation study. The research sample was taken using a total sampling technique as many as 48 late teens with an age range of 18-21 years. The method of data collection in this study used a questionnaire or questionnaire. The data analysis used is the Product Moment correlation analysis from Karl Pearson assisted by the SPSS version 21 application program. The results of the study using Product Moment analysis showed a Sig. value of 0.143 > 0.05 and a correlation coefficient value of -0.215 where the value was smaller than the r-table value at a Sig. level of 5% N = 48, which was 0.291 (-0.215 < 0.291). Thus, there is no significant relationship between the level of loneliness and parasocial relationship among adolescent K-Pop fans in the EXO-L Lampung community. From the results, the alternative hypothesis (Ha) is rejected and the null hypothesis (H0) proposed by the researcher which reads "there is no relationship between the level of loneliness and parasocial relationship among K-Pop fans in the Lampung EXO-L Community" is accepted
References
Buku
Jahja, Yurdik. Psikologi Perkembangan, 1 ed. Jakarta: Prenada Media Group. 2011.
Machali, Imam. Metode Penelitian Kuantitatif (Panduan Praktis Merencanakan, Melakukan dan Analisis dalam Penelitian Kuantitatif). Yogyakarta: UIN Sunan Kalijaga Yogyakarta. 2016.
Sugiyono, Metode Penelitian Kuantitatif Kualitatif dan R&D, 19th ed. Bandung: CV. Alfabeta. 2013.
Syahrum and Salim, Metodologi Penelitian Kuantitatif, ed. Rusydi Ananda. Bandung: Citapustaka Media. 2014.
Yusuf, Nia Paramita. Hubungan Harga Diri dan Kesepian dengan Depresi pada Remaja. 2 ed. Universitas Muhammadiyah Malang. 2016.
Sumber Ilmiah (Jurnal)
Ade Wulandari, "Karakteristik Pertumbuhan Perkembangan Remaja dan Implikasinya Terhadap Masalah Kesehatan Dan Keperawatannya," Jurnal Keperawatan Anak, Vol. 2, No. 1, (2014): 39-43, https://jurnal.unimus.ac.id/index.php/JKA/article/view/3954/3671.
Amita Diananda, "Psikologi Remaja dan Permasalahannya," ISTIGHNA: Jurnal Pendidikan dan Pemikiran Islam, Vol. 1, No. 1, (2018): 116-133, https://doi.org/10.33853/istighna.v1i1.20.
Annasaul Putri, Yuninda Tria Ningsih, "Hubungan antara Kesepian dengan Kecanduan Game Online pada Mahasiswa yang Bermain Game Online X di Kota Padang," Jurnal Pendidikan Tambusai, Vol. 4, No. 3, (2020): 2762, https://doi.org/10.31004/jptam.v4i3.771.
Astrid Febry Nurdiani, "Uji Validitas Konstruk UCLA Loneliness Scale Version 3," Jurnal Pengukuran Psikologi dan Pendidikan Indonesia, Vol 2, No. 8 (2013): 499-500, https://doi.org/10.15408/jp3i.v2i8.10779.
Dadan Sumara, Sahadi Humaedi, Meilanny Budiarti Santoso, "Kenakalan Remaja dan Penanganannya," Jurnal Penelitian & PPM, Vol. 4, No. 2, (2017): 129-389, https://doi.org/10.24198/jppm.v4i2.14393.
Dimas Aldi Saifuddin, Achmad Mujab Masykur, "Interaksi Parasosial: Sebuah Studi Kualitatif Deskriptif pada Penggemar JKT48," Jurnal Empati, Vol 3, No. 4, (2014): 143-152, https://ejournal3.undip.ac.id/index.php/empati/article/view/7568.
Dinda Larasati, "Globalisasi Budaya dan Identitas: Pengaruh dan Eksistensi Hallyu (KoreanWave) versus Westernisasi di Indonesia," Jurnal Hubungan Internasional, Vol. 11, No.1, (2018): 110-120, http://dx.doi.org/10.20473/jhi.v11i1.8749.
Firda Latifa Mustafa, Lilim Halimah, "Hubungan antara Social Skill dengan Parasocial Relationship (PSR) pada Wanita Dewasa Awal di Komunitas EXO-L Bandung," Prosiding Psikologi, Vol. 4, No. 1 (2018): 227, http://dx.doi.org/10.29313/.v0i0.9419.
Idola Perdini Putri, Farah Dhiba Putri Liany, dan Reni Nuraeni, "K-Drama dan Penyebaran Korean Wave di Indonesia," ProTVF, Vol. 3, No. 1, (2019): 68-80, https://doi.org/10.24198/ptvf.v3i1.20940.
Janice Grace Lusiani Larasati Simanjuntak, dkk, "Psychological Well-Being sebagai Prediktor Tingkat Kesepian Mahasiswa," Jurnal Psikologi Teori dan Terapan, Vol. 11, No. 2, (2021): 158-175, https://doi.org/10.26740/jptt.v11n2.p158-175.
Khamim Zarkasih Saputro, "Memahami Ciri dan Tugas Perkembangan Masa Remaja," APLIKASIA: Jurnal Aplikasi Ilmu-ilmu Agama, Vol. 17, No. 1, (2017): 25-32, https://doi.org/10.14421/aplikasia.v17i1.1362.
Pulung S. Perbawani, Almara J. Nuralin, "Hubungan Parasosial dan Perilaku Loyalitas Fans dalam Fandom KPop di Indonesia," Jurnal Lontar, Vol. 9, No. 1, (2021): 42-54, https://doi.org/10.30656/lontar.v9i1.3056.
Sella Ayu Pertiwi, "Konformitas Dan Fanatisme Pada Remaja Korean Wave," Psikoborneo, Vol. 1, No. 2, (2013): 84-90, http://dx.doi.org/10.30872/psikoborneo.v1i2.3286.
Sridewi Murni Agriyanti, Diana Rahmasari, "Perbedaan Tingkat Kesepian pada Siswa Kelas X dan XI Ditinjau dari Efektivitas Komunikasi Orangtua," Character: Jurnal Penelitian Psikologi, Vol. 8, No. 5, (2021): 118-188, https://ejournal.unesa.ac.id/index.php/character/article/view/41923.
Vera Novita Efathania and Aisyah, "Hubungan antara Big Five Personality Trait dengan Celebrity Worship pada Dewasa Muda Penggemar K-Pop di Sosial Media," Jurnal Ilmiah Psikologi MIND SET, Vol. 10, No. 01, (2019): 1-16, https://doi.org/10.35814/mindset.v10i01.734.
Sumber Ilmiah (Skripsi)
Allisa Laksmi, "Hubungan Antara Status Identitas Diri Dengan Celebrity Worship Pada Remaja Akhir Penggemar Korean Pop di Kota Malang," (Skripsi, UIN Maulana Malik Ibrahim Malang, 2019).
Dea Putri Pamungkas, "Kriteria Pemilihan Pasangan Pada Dewasa Awal Yang Mengalami Celebrity Worship Pada Idol K-POP" (Skripsi, Universitas Brawijaya, 2020).
Dewi Angel, "Hubungan antara Loneliness dengan Kecenderungan Internet Addiction pada Mahasiswa" (Skripsi, Universitas Negeri Semarang, 2019).
Eling Anissela, "Hubungan Antara Tingkat Kesepian dengan Parasocial Relationship Pada Remaja Penggemar K-Pop di Komunitas Army Purwokerto" (Skripsi, IAIN Purwokerto, 2021).
Marwatu Shofa, "Gambaran Psikologis Celebrity Worship Pada Dewasa Awal (Studi Khusus Mahasiswa Penggemar Korean Pop)" (Skripsi, UIN Maulana Malik Ibrahim Malang, 2017).
Muhammad Arif Laemang, "Pengaruh Penggunaan Media Sosial Terhadap Perilaku Pemilihan Pemula Dalam Menghadapi Pilkada Serentak Tahun 2020 Di Kabupaten Barru" (Skripsi, Universitas Muhammadiyah Makasar, 2021).
Raden Ranti Andennisa, "Hubungan Antara Parasocial Relationship Dengan Self-Esteem Pada Penggemar K-Pop: Studi Korelasional pada Peserta Gathering GOT7 Bandung" (Skripsi, Universitas Pendidikan Indonesia, 2014).
Tekstidinegari Thaufik, "Gambaran Relasi Parasosial Pada Perempuan Dewasa Awal: Studi Deskriptif Mengenai Relasi Parasosial pada Perempuan Dewasa Awal yang Menjadi Fans Korean Pop (Kpop) di Indonesia" (Skripsi, Universitas Padjadjaran, 2013).
Widia Diningrum, "Media Sosial Instagram Sebagai Media Komunikasi Sosial (Studi Pada Mahasiswa Pendidikan IPS Angkatan 2019 UIN Malang)" (Skripsi, UIN Maulana Malik Ibrahim Malang, 2020).
Wawancara
Sasyinta Nurul Almega, "Kegiatan di Komunitas EXO-L Lampung (exollampung)," Wawancara, Januari 6, 2022.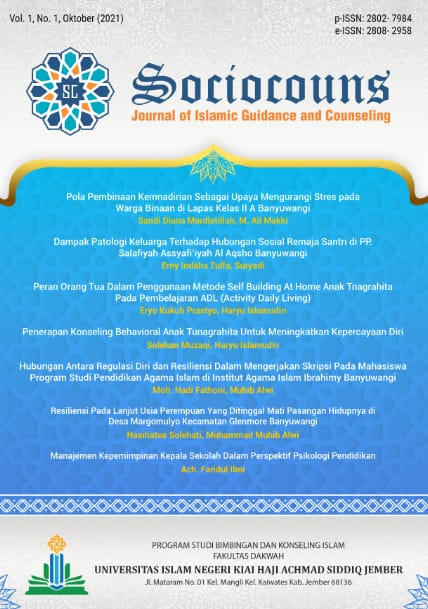 Downloads
How to Cite
Noffiyanti, Mohd Akib, M. M. ., & Fitriyani, A. . (2023). Hubungan Antara Tingkat Kesepian Dengan Parasocial Relationship Pada Remaja Penggemar K-POP di Komunitas Exo-L Lampung: The Relationship Between The Level Of Loneliness And The Parasocial Relationship Of Adolescent K-POP Fans In The Exo-L Lampung Community. Sociocouns: Journal of Islamic Guidance and Counseling, 3(1), 92–114. https://doi.org/10.35719/sjigc.v3i1.83