Analisis Deskriptif Strategi Self-Regulated Learning Pada Pelajar Dengan Internet Gaming Disorder
Descriptive Analysis of Self-Regulated Learning Strategies in Students with Internet Gaming Disorder
Keywords:
Internet gaming disoerder, self-regulation, self-regulated learning
Abstract
This study aims to determine self-regulated learning strategies for students with internet gaming disorder. By using the literature review method. With literature sources obtained from the google-scholar database on self-regulated learning and internet gaming disorder, it is then studied in depth and draws a conclusion for this study. This study found that the application of self-regulated learning strategies to students with internet gaming disorder could be based on self-regulation of the students themselves.
References
Anggraini, Fdjri kirana.(2015). Internet gaming disorder:psikopatologi budaya modern. Buletin psikologi. Vol.23, no.1
Ardianti, T., marfu'I, L. R., fijriani.(2021). Early adolescent levels of self-regulation of online gaming in SMP YAPPA depok: analisis of rasch modeling. Journal of academia perspectives. Vol. 1, no.1
Bramadan, Harman.(2021). Kontribusi regulasi diri terhadap kecanduan game online pada mahasiswa yang bermain game online X di kota padang. SOCIO HUMANUS. Vol. 3, no.1
Databoks.katadata.co.id. 16 februari 2022. Jumlah gaers Indonesia terbanyak ketiga di dunia. Diakses pada 19 mei 2022, /datapublish/2022/02/16/jumlah-gamers-indonesia-terbanyak-ketiga-di-dunia
Dinata, pri. A. C., rahzianta., zainuddin, M.(2016). Self regulated learning sebagai strategi membangun kemandirian peserta didik dalam menjawab tantangan abad 21. Seminar nasional pendiikan sains
Effendi, rolin maulya sani.(2017). Regulasi diri dalam belajar (self-regulated learning) pada remaja yang kecanduan game online. PSIKOBORNEO : JURNAL ILMIAH PSIKOLOGI. Vol.5, no. 2
Heryana, ade.(2018). Kecanduan games online (internet gaming disorder). Reaserchgate
Latipah, eva.(2010). Strategi self-regulated learning dan prestasi belajar: kajian meta analisis. JURNAL PSIKOLOGI. Vol. 37, no. 1
Lay, aditya., wijaya,pasifikus ch. & abdi keraf, M. K.P.(2021) A study of self-regulation on online game addiction in kupang city. Journal of health and behavioral science. Vol. 3, no. 4
Marlaokta.(2019). Dampak internet gaming disorderterhadap status kognitif dan perilaku psikopatologis: literature review. Jurnal keperawatan jiwa. Vol 8, no1
Mukhid, abd.(2008). Strategi self-regulatedlearning (perspektif teoritik). Tadris. Vol. 2, no. 2
Najah, afiatun.(2012). Self-regulated learning mahasiswi ditinjau dari status pernikahan. Educational psychology journal. Vol. 1, no. 1
Oktavia, lyanna., sugiyo. & awalya.(2021). The relationship between self-regulation, parent-adolescent attachment and self-concept with online game addiction. Jurnal bimbingan konseling-UNNES. Vol.1, no.3.
Ramadhan, R. M. ibnu, & nugrahawati, E. N.(2017). Studi deskriptif mengenai self-regulated learning pada mahasiswa komunitas game online Dota di bandung. Universitas islam bandung repository.
Ruhiat dan halimah.(2018). Studi deskriptif mengenai self-regulated learning pada mahasiswa gamers online di DA E-sport arena kota bandung. Prosiding psikologi. Vol 4, no.2
Simanjuntak, ermida.(2018). First year challenge: the role of self-regulated learning to prevent internet addiction among first-year university students. Atlantis press
Susanti, I., Makhfudi, M., utomo, B.(2021). Regulasi diri terhadap gangguan perilaku internet gaming. Vol.3 , no.2
Ulum, Muhammad iqbal.(2016). Strategi self-regulated learning untuk menurunkan tingkat prokrastinasi akademik siswa. PSYMPATHIC: jurnal ilmiah psikologi. Vol. 3, no. 2
Warni, E. S. & firman.(2020). Efektifitas layanan bimbingan kelompok dalam peningkatan self-regulated learning siswa pengguna game online. Jurnal neokonseling. Vol.2 , no.3
Wong, I. L. kwen. & Lam, milicent P. S.(2016). Gaming behavior and addiction among hong kong adolescent. Asian journal of gambling issues and public health. Vol. 6, no.6.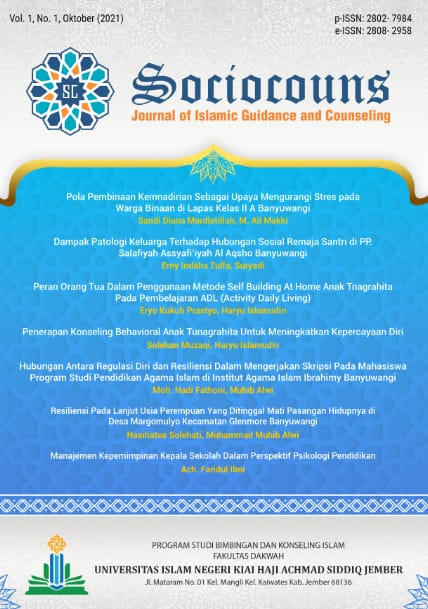 Downloads
How to Cite
Anwar, A. kirom, Sa'adah, N., Furqon, A., & Silfia, W. (2023). Analisis Deskriptif Strategi Self-Regulated Learning Pada Pelajar Dengan Internet Gaming Disorder: Descriptive Analysis of Self-Regulated Learning Strategies in Students with Internet Gaming Disorder. Sociocouns: Journal of Islamic Guidance and Counseling, 3(1), 25–38. https://doi.org/10.35719/sjigc.v3i1.56